About Tucson Chayon-Ryu
UPDATE: I am very sad to announce that we at Tucson Chayon-Ryu have had to close our doors. There are no prospects of reopening in the near future, but if you would like to be informed should the situation change, please email robyn@tucsoncyr.com to be added to a notification list.
What is Chayon-Ryu?
Chayon-Ryu, "The Natural Way," is a modern martial arts style with very traditional roots. It was founded in 1968 by Grandmaster Kim Soo, who set out to create a school of martial arts emphasizing basic principles and natural body movements. Chayon-Ryu incorporates techniques from taekwondo, karate, kung-fu, jujitsu, hapkido, and bong-sul into a unified system. Students learn throwing, sparring and self-defense techniques, as well as forms (what are often called "kata" in other schools). Unlike many other martial arts styles, the focus of Chayon-Ryu is not on tournaments and competitions, but rather on training in ways that will improve a student's self-confidence and overall wellness as well as physical strength and flexibility.
Current Fees and Class Times
One student – $50 per month.
Family rate (for two or more students training together as a family) – $90 per month.
All students must pay a one-time $25 enrollment fee.
Classes suitable for beginners are held on Tuesdays and Thursdays from 6-7 pm, and Saturdays from 1-2 pm. We recommend that students plan to attend at least two classes a week.
Location
Tucson Chayon-Ryu is located at 210 W. 5th St., sharing space with Aikido of Tucson. Look for the Aikido of Tucson sign.
History of the Tucson Dojang
Tucson Chayon-Ryu began in 1983 from Don Martin and Charlotte Hwang's vision of operating a branch school of Kim Soo Karate. Classes were originally taught at local facilities, including Greenfields, Vision Quest and the Pascua Yaqui tribes with the main school located at the historic YWCA.
In 1986 the school moved to the Lohse Family YMCA and stayed there until 2007.
In 2007 and 2008, the school was located in other venues in the downtown area, including La Placita Village.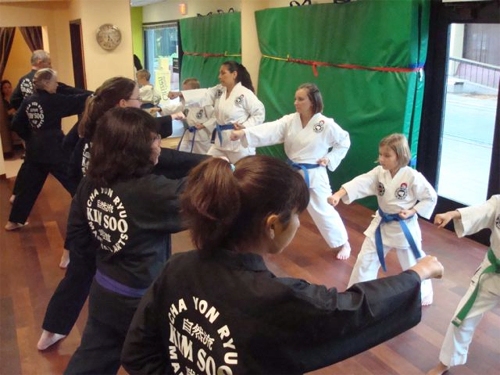 Over the course of 25 years Master Martin and Master Hwang provided quality instruction to over a thousand students, shaping Tucson Chayon-Ryu into a family-friendly training environment. In 2009, Sabonim Robyn Fleming became the chief instructor of the school, carrying on the principles and traditions of Tucson Chayon-Ryu in a new location, a martial arts studio at 210 W. 5th St.